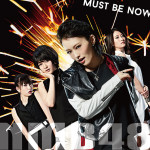 The new single of NMB48 Must be now is on sale since October 7.
This is the 13th single of the idol group.
The center member is Yamamoto Sayaka.
The Senbatsu members are : Ishida Yuumi, Kato Yuuka, Kishino Rika, Nishimura Aika, Yamamoto Sayaka, Umeda Ayaka, Kinoshita Haruna, Kusaka Konomi and Watanabe Miyuki.
The members of the idol group seem to show more maturity on CD covers and the music video.
All editions come with a DVD featuring PVs and various bonus footage.
Discover the music video in short version the choreography of the title song below.
Tracklist
Must be now
Kataomoi Yori mo Omoide wo (片思いよりも思い出を)
Yume ni Iro ga Nai Riyuu (夢に色がない理由) (Team N)
Must be now (off vocal ver.)
Kataomoi Yori mo Omoide wo (off vocal ver.)
Yume ni Iro ga Nai Riyuu (off vocal ver.)
Must be now (Music Video)
Must be now (Music Video Dancing Version)
Kataomoi Yori mo Omoide wo (Music Video)
Yume ni Iro ga Nai Riyuu (Music Video)
Bonus Video "Riripon Mahjong Shouri e no Michi Zenpen" (りりぽん 麻雀勝利への道 前編)
NMB48 Arena Tour 2015 ~Touku ni Ite mo~ 2015.2.25 @ Nippon Budokan (遠くにいても)
Must be now
Kataomoi Yori mo Omoide wo (片思いよりも思い出を)
Good-bye, Guitar (Team M)
Must be now (off vocal ver.)
Kataomoi Yori mo Omoide wo (off vocal ver.)
Good-bye, Guitar (off vocal ver.)
Must be now (Music Video)
Must be now (Music Video Dancing Version)
Kataomoi Yori mo Omoide wo (Music Video)
Good-bye, Guitar (Music Video)
Bonus Video "Riripon Mahjong Shouri e no Michi Kouhen" (りりぽん 麻雀勝利への道 後編)
NMB48 Arena Tour 2015 ~Touku ni Ite mo~ 2015.2.26 @ Nippon Budokan (遠くにいても)
Must be now
Kataomoi Yori mo Omoide wo (片思いよりも思い出を)
Kuufuku de Renai wo Suru na (空腹で恋愛をするな) (Team BII)
Must be now (off vocal ver.)
Kataomoi Yori mo Omoide wo (off vocal ver.)
Kuufuku de Renai wo Suru na (off vocal ver.)
Must be now (Music Video)
Must be now (Music Video Dancing Version)
Kataomoi Yori mo Omoide wo (Music Video)
Kuufuku de Renai wo Suru na (Music Video)
NMB48 feat. Yoshimoto Shinkigeki Vol. 13
NMB48 Kenkyuusei "Souzou no Shijin" Theater Performances (NMB48研究生「想像の詩人」劇場公演)
Must be now
Kataomoi Yori mo Omoide wo (片思いよりも思い出を)
Orera to wa (俺らとは)
Must be now (off vocal ver.)
Kataomoi Yori mo Omoide wo (off vocal ver.)
Orera to wa (off vocal ver.)
Music Video (PV)