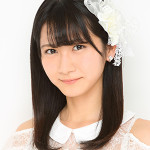 Godo Saki announced her graduation from SKE48.
She explained that she had decided to leave the idol group to concentrate on studies in order to realize her dream in the future. She was thinking about it for a few months.
Godo Saki joined SKE48 as a draft member in November 2013. She is part of Team KII.
The date of her graduation live hasn't been determined yet.
Godo Saki made this announcement on October 14th during SKE48 Team KII stage at their theater in Nagoya.