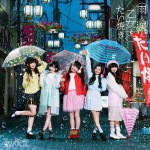 Otome Shinto's 8th single Ame to Namida to Otome to Taiyaki (雨と涙と乙女とたい焼き) will be released on March 2nd.
In the MV, the girls going back home after school. As the title suggests, they are eating taiyaki, crying, and walking in the rain with an umbrella. It also includes dance scenes.
Hasegawa Airi, who is on hiatus due to poor physical health since October, makes a short appearance at the end of the music video.
It is the ending theme song for the anime Nurse Witch Komugi (ナースウィッチ小麦ちゃんR). Otome Shinto members also perform as voice actresses in the anime.
The lyrics were written by Takahashi Kumiko (ex Chatmonchy). The music was composed by Hidaka Tooru (The Starbems, ex Beat Crusaders), and arranged by Yamamoto Sho (ex Phenotas) and rionos.
The art director was Kasico. He designed the single covers.
Otome Shinto costumes were made in collaboration with Spinns fashion brand.
The coupling song Faiyaiya!!! (ファイヤイヤっ!!!) was written by Nobe and composed by Ise Yoshifumi.
Tracklist
CD

Ame to Namida to Otome to Taiyaki (雨と涙と乙女とたい焼き)
Faiyaiya!!! (ファイヤイヤっ!!!)
Ame to Namida to Otome to Taiyaki (Instrumental)
Faiyaiya!!! (Instrumental)
DVD (Type A)

Ame to Namida to Otome to Taiyaki (Music Video)
MV & Jacket Making-of
DVD (Type B)

Documentary of Tsuchinoko Sagashite Tokyo Nagoya Osaka (ドキュメンタリー オブ ツチノコ探して東名阪♡)
Music Video (PV)