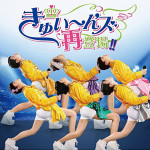 Kyueen's 2nd mini-album Sai Toujou!! (再登場!!) will be on sale on August 5.
The CD contains 5 tracks including 2 original songs.
The idol group made its debut 6 months ago.
Their new costumes consist of a yellow jacket and short pants.
Mamamamasaka no Kataomoi (ままままさかの片想い) is a solo song by Aisawa Yuko. It is about love feelings of a girl.
Kyou mo Buppan de 21-ji (今日も物販で21時) is performed by the duet comprised of Saiba Mizuki and Sakuraba Miyabi. The subject is prohibited love between idols and fans.
Both songs were also released as digital singles on July 29.
The lyrics were written by Nobe.
Only one edition of Sai Toujou!! (再登場!!) album is available.
Furthermore, Kyueen's are going to celebrate their 1st anniversary in August.
Tracklist
Kyueen's Sai Toujou no Theme ~~ (きゅい~ん'ズ再登場のテーマ (~今日も一所懸命ゴマをすってます~)
Mamamamasaka no Kataomoi (ままままさかの片想い)
Kyou mo Buppan de 21-ji (今日も物販で21時)
Mekkacchatta! Barechatta! (めっかっちゃった!ばれちゃった!)
We Will!! Do Chokkyu!! (うぃーうぃる!!ど直球っ!!) (らぶmix powered by ざわちん Single Edit)