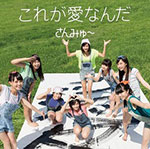 Sunmyu's new single Kore ga Ai Nanda (これが愛なんだ) will be released on November 20.
It is the 4th single from Sunmyu and their 1st original song.
4 editions are available. They come with a photo of a member of the idol group, and tickets for a handshake and a premium events. The coupling song is different for each one of them.
The limited editions includes a DVD featuring various versions of the music video, the making-of, and bonus footage.
Furthermore, Sunmyu Live 2013 (さんみゅ~Live 2013) will be held on November 16 and December 21 at Hatsudai the Doors in Tokyo.
Regular Edition
CD

Kore ga Ai Nanda (これが愛なんだ)
Kakenukero! Seishun (駆け抜けろ!青春)
Kore ga Ai Nanda (これが愛なんだ) (Instrumental)
Kakenukero! Seishun (駆け抜けろ!青春) (Instrumental)
Type A
CD

Kore ga Ai Nanda (これが愛なんだ)
Kakenukero! Seishun (駆け抜けろ!青春)
Kore ga Ai Nanda (これが愛なんだ) (Instrumental)
Kakenukero! Seishun (駆け抜けろ!青春) (Instrumental)
DVD

Kore ga Ai Nanda (これが愛なんだ) (Music Video)
Kore ga Ai Nanda (これが愛なんだ) (Dance Version)
Kore ga Ai Nanda (これが愛なんだ) (Close Up Version)
Kore ga Ai Nanda (これが愛なんだ) (Making-of)
Kore ga Ai Nanda (これが愛なんだ) (Making-of Jacket)
Type B
CD

Koi ga Ai Nanda (これが愛なんだ)
Live a Live! ~Ai ga Areba Daijoubu~ (Live a Live !~愛があれば大丈夫~)
Koi ga Ai Nanda (これが愛なんだ) (Instrumental)
Live a Live! ~Ai ga Areba Daijoubu~ (Live a Live !~愛があれば大丈夫~) (Instrumental)
DVD

Document of Sunmyu (さんみゅ~) Vol.06
Type C
CD

Kore ga Ai Nanda (これが愛なんだ)
Ame no Birthday (雨のバースデイ)
Kore ga Ai Nanda (これが愛なんだ) (Instrumental)
Ame no Birthday (雨のバースデイ) (Instrumental)
DVD

Document of Sunmyu Live 2013 -Minna no Hikari- (-みんなの光-) (2013.09.23) (Kobayashi Yayoi)
Document of Sunmyu Live 2013 -The World of Happy Smiles- (2013.09.23) (Hasegawa Reika)
Document of Sunmyu Live 2013 -Happy Time ~Yume no Jikan~ (~夢の時間~)- (2013.10.19) (Yamauchi Haruka)
Document of Sunmyu Live 2013 -The Feeling for Songs ~Watashitachi no Yume no Tame Utaou~ (~私たちの夢のため歌おう~)- (2013.10.19) (Niihara Sena)
Music Video (PV)