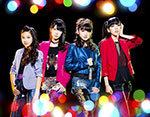 Prizmmy☆ Performance☆ Live will be released on DVD on December 6.
This DVD includes the videos of the concerts Pretty Rhythm in Christmas (プリティーリズム in クリスマス) and Pretty Rhythm Dream Festival (プリティーリズム ドリーム☆フェスティバル) held by Prizmmy☆ in December 2012 and in March 2013.
It also features backstage footage.
Furthermore, Prizmmy☆'s 9th single Crazy Gonna Crazy is on sale since October 30.
Setlist & Tracklist
Pretty Rhythm in Christmas (プリティーリズム in クリスマス) 24/12/2012

Dear My Future ~Mirai no Jibun e~ (~未来の自分へ~)
Brand New World!!
Prizmmy☆'s Aisatsu Song
My Transform
Body Rock
Best Friend

Pretty Rhythm Dream Festival (プリティーリズム ドリーム☆フェスティバル) 24/03/2013

Dear My Future ~Mirai no Jibun e~ (~未来の自分へ~)
RainBow×RainBow
Tear Smile
Best Friend
Boy Meets Girl
Panpina! (パンピナッ!)

Bonus

Pretty Rhythm in Christmas (プリティーリズム in クリスマス) (Backstage)
Pretty Rhythm Dream Festival) (プリティーリズム ドリーム☆フェスティバル) (Backstage)