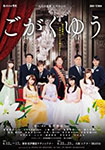 The stage play Gogakuyuu (ごがくゆう) starring Morning Musume members Mizuki Fukumura, Sayashi Riho, Iikubo Haruna, Ishida Ayumi and Kudo Haruka will be released on DVD on November 27.
In this story, the members of Morning Musume play the role of princesses.
The play ran on June 17-22 in Tokyo and on June 23-24 in Osaka.
Gogakuyuu is part of Gekidan Gekiharo project.
Trailer (Video)