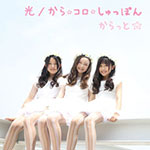 Karat☆'s new single Hikari / Kara Koro Shuppon (光 / から☆コロ☆しゅっぽん) will be released on August 21.
This is the 3rd single from Karat☆. It is a double A-side.
Hikari (光) is the first rock ballad from the idol group.
The MVs have been released.
Only one edition is available.
The CD contains 2 songs and their instrumental versions.
Tracklist
Hikari (光)
Kara Koro Shuppon (から☆コロ☆しゅっぽん)
Hikari (光) (Instrumental)
Kara Koro Shuppon (から☆コロ☆しゅっぽん) (Instrumental)
Music Video (PV)