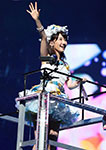 Kashiwagi Yuki 2nd Solo Live Netemo Sametemo Yukirin World ~Muchuu ni Sasechauzo~ (柏木由紀 2nd ソロライブ 寝ても覚めてもゆきりんワールド 〜夢中にさせちゃうぞっ〜) will be released on DVD and Blu-ray on June 19.
Yukirin performed 18 songs, including her latest solo singles and covers of AKB48 and French Kiss.
The concert was held at Tokyo International Forum Hall A on February 17, 2013.
Setlist
Kuchi Utsushi no Chocolate (口移しのチョコレート)
Enkyori Poster (遠距離ポスター)
Shonichi (初日)
Dragon Fruits no Tabegoro (ドラゴンフルーツの食べ頃)
Give Me Five!
Shortcake (ショートケーキ)
Sakura no Ki ni Narou (桜の木になろう) (Acoustic Ver.)
Soredemo Nakanai (れでも泣かない)
Kazanbai (火山灰)
Jealousy Punch (ジェラシーパンチ)
Class kai no ato de (クラス会の後で)
Mirai Bashi (未来橋)
Temodemo no Namida (てもでもの涙)
Gingham Check (ギンガムチェック)
– Encore –
Eien Pressure (永遠プレッシャー)
Iiwake Maybe (言い訳Maybe)
Romance Privacy (ロマンス・プライバシー)
Yokaze no Shiwaza (夜風の仕業)
Digest Video