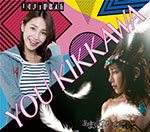 Kikkawa You's new single Amai Melody / Suki no Kazoekata (あまいメロディー/「すき」の数え方) will be released on October 29th.
This is the 8th solo single from Kikkawa You. It is a double A-side.
The MV has been unveiled.
Kikkawa You is wearing a nice oriental costume in the music video for Amai Melody.
The lyrics were written by Nobe. The music was composed and arranged by michitomo.
Kikkawa You looks like a fashion model in the video clip of Suki no Kazoekata (「すき」の数え方).
The song was written and composed by Sakanoue Yosuke. It was also arranged by michitomo.
3 éditions are available. The tracklist of the CD is the same for each one of them.
The limited editions include a bonus DVD with a music video and its making-of.
Moreover, Kikkawa You will hold release events (mini-live, handshake and autograph sessions) from October 28 to November 2 in Tokyo.
Tracklist
CD

Amai Melody (あまいメロディー)
Suki no Kazoekata (「すき」の数え方)
Amai Melody (Instrumental)
Suki no Kazoekata (Instrumental)
DVD (Type A)

Amai Melody (Music Video)
Making-of
DVD (Type B)

Suki no Kazoekata (Music Video)
Making-of
Music Video (PV)