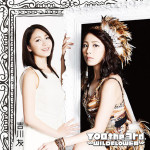 Kikkawa You's new album You the 3rd ~Wildflower~ will be on released on October 14.
As the title suggests, this is the 3rd album from Kikka. The CD contains 10 songs including her latest singles and new ones.
The MV for Kikkawa You's new song Wildstrawberry has been revealed. It features English and Japanese subtitles of the lyrics.
Wildstrawberry is the sequel to her latest single Hana ( 花) which is about the life of a woman and is the longest idol song in history.
The limited edition comes with a bonus DVD featuring the music video and its making-of, and a documentary about Kikka's recent live performance in Taiwan.
Furthermore, Kikkawa You 2015 Aki Tour ~Wildberry wo Meshiagare~ will be held from October 24 to November 29. Concerts are scheduled in Sapporo, Tokyo, Osaka, Nagoya and Fukuoka.
Tracklist
CD

Urahara Temptation (Uraharaテンプテーション)
Akane Disco (アカネディスコ)
Suki no Kazoekata (「すき」の数え方)
Amai Melody (あまいメロディー)
Planetarium (プラネタリウム)
Iijan (いいじゃん)
Konna Aishicha (こんな愛しちゃ)
Hana ( 花)
Wildstrawberry
Stairways
DVD

Wildstrawberry (Music Video + Making-of)
Taiwan Live Yuru Yuru Documentary (台湾公演ゆるゆるドキュメンタリー)
Music Video (PV)