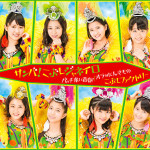 The new single of Kobushi Factory entitled Samba! Kobushi Janeiro / Bacchikoi Seishun! / Ora wa Ninkimono (サンバ!こぶしジャネイロ/バッチ来い青春!/オラはにんきもの) will be released on July 27.
It's the 3rd major single of the idol group. It contains a triple A-side.
The music videos were unveiled.
The single will be released in 3 regular editions rated A, B and C and 3 limited editions also rated A, B and C. The limited editions A, B, and C are each provided with a different bonus DVD.
Limited editions and the first press regular editions will come with a serial number card for lottery for the chance to win a ticket to one of the single launch events.
A special box set will also be published, which will include all single versions; many events will be organized.
Tracklist
CD

Samba! Kobushi Janeiro (サンバ!こぶしジャネイロ)
Bacchikoi Seishun! (バッチ来い青春!; Hey Youth, Come at Me!)
Ora wa Ninkimono (オラはにんきもの; I'm Popular)
Samba! Kobushi Janeiro (Instrumental)
Bacchikoi Seishun! (Instrumental)
Ora wa Ninkimono (Instrumental)
DVD

Type A

Samba! Kobushi Janeiro (Music Video)

Type B

Bacchikoi Seishun! (Music Video)

Type C

Ora wa Ninkimono (Music Video)
Clip Video (MV)