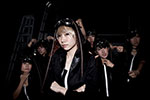 Koshoji Megumi (コショージメグミ) joined BiS on November 10. The idol group is now consisting of 6 members.
The announcement was made at the live event 100% Japanese Music DJ & Live Tokyo Bootleg Vol.40 -7th Anniversary Party- held by BiS on November 10 at Shinkiba Coast.
A few days ago, the fashion designer Junko Koshino had joined the idol group as a life-long honorary member.