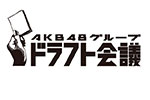 All 48 groups held the 1st AKB48 Group Draft Kaigi (AKB48グループドラフト会議) on November 10 at Grand Prince Hotel Shin-Takanawa.
The 29 finalists performed River and Aitakatta. 20 candidates have been drafted by the team captains to join AKB48, SKE48, NMB48, and HKT48.
The rookies are going to enter into negotiations with their new teams before officially joining them in December.
AKB48 Group Draft Kaigi Results
AKB48

Team A : Nishiyama Rena, Takita Kayoko
Team K : Goto Moe, Shimoguchi Hinana
Team B : Yokoshima Aeri, Kawamoto Saya
SKE48

Team S : Matsumoto Chikako
Team KII : Godo Saki, Takatsuka Natsuki, Suzuki Nene, Arai Yuki, Soda Sarina
Team E : Koishi Kumiko, Takatera Sana, Fukushi Nao
NMB48

Team N : Suto Ririka
Team M : Takei Sara
Team BII : Iso Kanae, Naiki Kokoro