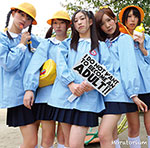 Hime Kyun Fruit Can's new single Moratorium (モラトリアム) will be released on December 18.
This is the 2nd major single from Hime Kyun Fruit Can.
2 editions are available. Each one includes 4 songs. However the 4th track is different depending the version.
The limited edition comes with a bonus DVD featuring the music video and making-of footage.
The coupling track Ryuusei Train (流星トレイン) is the ending theme song for the anime Train Heroes Saishidou! (トレインヒーロー 再始動!) broadcast on Tokyo TV.
Furthermore, HimeKyun "Idoroll" Tour 2013-2014 Your Future Is our Hope is being held until February 16.
Regular Edition
CD

Moratorium (モラトリアム)
Senjou no Marvel (線状のマーベル)
Ryuusei Train (流星トレイン)
Time Capsule (タイムカプセル)
Limited Edition
CD

Moratorium (モラトリアム)
Senjou no Marvel (線状のマーベル)
Ryuusei Train (流星トレイン)
Eden no Koku (エデンの刻)
DVD

Moratorium (モラトリアム) (Music Video)
Moratorium (モラトリアム) (Making-of)
Music Video (PV)