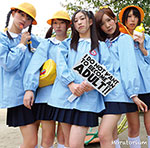 Hime Kyun Fruit Can's new single Moratorium (モラトリアム) will be released on December 18.
This is the 2nd major single from Hime Kyun Fruit Can.
2 editions are available. Each one includes 4 songs. However the 4th track is different depending the version.
The limited edition comes with a bonus DVD featuring the music video and making-of footage.