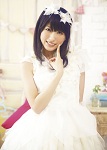 Kotone Mai will make her major debut on August 14 under Victor Entertainment's label Version Music. Her upcoming single is titled Bang Bang Koteki Samba (Bang Bang 鼓笛サンバ).
The announcement was made on May 10 during her live performance Kotone no Hi -Sakura/Spring Road 2013 ~Ima Dake~ (コトネの日-Sakura/Spring Road 2013~イマダケ~-Final).
Kotone Mai, also known as Mainya, began her career in 2009.
During the event, Kotone Mai also told that she decided to become an idol because she was originally a fan of Hello! Project. One of her dreams is to hold a concert at Nakano Sun Plaza.
She is going to join idol groups such as The Possible and Tokyo Cheer2 Party under Victor Entertainment label.