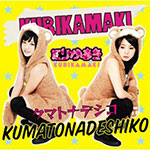 Kurikamaki's new single Kumatonadeshiko (クマトナデシコ) will be released on March 12.
This is the 2nd single of Kurikamaki.
The MV has been released.
The lyrics of the title song Kumatonadeshiko were written by kyon. The music was composed by y0c1e and arranged by Apazzi & U.M.E.D.Y.
The CD contains 3 songs and their instrumental versions. Only one edition is available.
Moreover, Kurikamaki will hold on live performance on March 23 at Shibuya WWW in Tokyo.
Tracklist
Kuma to Nadeshiko (クマトナデシコ)
Shunshoku Discovery feat. Tomodachi (春色ディスカバリー feat. ともだち)
My Sweet Darlin'
Kuma to Nadeshiko (クマトナデシコ) (Instrumental)
Shunshoku Discovery feat. Tomodachi (春色ディスカバリー feat. ともだち) (Instrumental)
My Sweet Darlin' (Instrumental)
Music Video (PV)