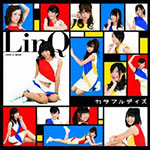 LinQ's new single Colorful Days (カラフルデイズ) will be released on January 22.
This is the 3rd single from LinQ since their joined a major label.
The regular edition contains 4 songs including 2 bonus tracks.
The limited editions Type A and B come with a DVD featuring eithe the music video and making-of footage, or a video of LinQ Lady Super Live Tour 2013 at Shibuya Vuenos.
Moreover, LinQ will hold live performances on November 23 at Fukuoka Convention Center, on December 9 at Osaka Big Cat, on December 10 at Apollo Theater in Nagoya, and on December 12 at Shibuya-AX in Tokyo.
Goto Rikako and Fukuhara Izumi are going to graduate from the idol group in March 2014.
Regular Edition
CD

Colorful Days (カラフルデイズ)
Chocolate Kiss
No Lady, No Life
Lemon Tea (レモンティー)
Type A
CD

Colorful Days (カラフルデイズ)
Chocolate Kiss
Colorful Days (カラフルデイズ) (Instrumental)
Chocolate Kiss (Instrumental)
DVD

Colorful Days (カラフルデイズ) (Music Video)
Colorful Days (カラフルデイズ) (Making-of)
Type B
CD

Colorful Days (カラフルデイズ)
No Lady, No Life
Colorful Days (カラフルデイズ) (Instrumental)
No Lady, No Life (Instrumental)
DVD

LinQ Lady Super Live Tour 2013 at Shibuya Vuenos
Type C
CD

Colorful Days (カラフルデイズ)
Colorful Days (カラフルデイズ) (Instrumental)
Music Video (PV)