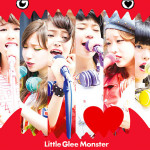 Little Glee Monster's 4th single Suki Da (好きだ。) will be released on September 23.
It is the theme song for the drama Omotesando Koukou Gasshoubu (表参道高校合唱部!) airing on TBS.
The short version of the music video has been revealed. However its viewing is restricted to some countries.
The MV features one long continuous shot.
The CD contains 4 songs including a live version. 2 types are available.
Furthermore, Little Glee Monster Live Tour 2015 ~リトグリ、秋のガオッとオールJapan!!~ will take place from September 5 to November 29.
The unit is also going to hold a special event on December 13 at Tokyo Dome City Hall.
Tracklist
Limited Edition

CD

Suki Da (好きだ。)
Kakikake no Mirai (書きかけの未来)
Cups (When I'm Gone)
Harmony -Live on 2014.11.24-
Suki Da -instrumental-

DVD

Suki Da (Music Video)
Making-of
Regular Edition

CD

Suki Da
Kakikake no Mirai (書きかけの未来)
Cups (When I'm Gone)
Harmony -Live on 2014.11.24-
Music Video (PV)