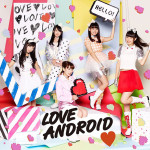 Love Android's 1st single Kyuuseishu Telepathy (救世主☆テレパシー) will be released on November 5.
The idol group's 1st mini-album Love Love will be on sale on the same day.
Both CDs are produced by Space Shower Music × Roth Project new label Japan Mode.
The songs are catchy pop melodies.
The MV of their song featuring Rolly has been unveiled.
Tracklist
Single

Kyuuseishu Telepathy (救世主☆テレパシー)
Kyuuseishu Telepathy naotohiroyama Remix (Orange Rande / delofamilia)
Album

intro.
Love Forever feat. Rolly (Guitar)
More More Time (モアモアTime) feat.Shimizu Kohei from A Crow Is White (Guitar )
Suttomo ~your my god friend~ (ずっとも ~your my god friend~)
Renai Fighter (連愛Fighter)
Dear Dr
Music Video (PV)