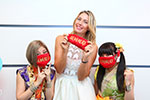 Maria Sharapova met Cheeky Parade members Suzuki Mariya and Nagai Hina.
The famous Russian tennis player was in Japan to promote Sugarpova candy.
Moreover, the MV for Cheeky Parade's new song Candy Pop Galaxy Bomb!! has been released.
The members of the idol group learned English before their recent trip in New York, USA. They introduced themselves in English and said to Maria Sharapova : « Please remember our name "Cheeky Parade" ».
Nagai Hina asked to the tennis player what she was thinking about Cheeky Parade. Maria Sharapova answered : « You're very excentric and cute ».
Suzuki Mariya smiled and replied : « Please come to our live performances ».
Furthermore, Cheeky Parade's upcoming single Candy Pop Galaxy Bomb!! / Kizuna Punky Rock!! will be released on December 3.
The music video includes footage from the trip and the concert of the idol group in New York.
Music Video (PV)