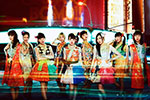 Cheeky Parade's new single Candy Pop Galaxy Bomb!! / Kizuna Punky Rock!! will be released on December 3rd.
This long-awaited single from the idol group is their first one for more than one year. It is a double A-side.
The MV has been unveiled. It includes footage from the trip and the concert of Cheeky Parade at the CBGB Music Festival in New York in October.