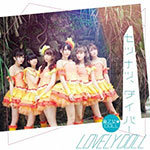 Lovely Doll's new single Setsunatsu, Diver (セツナツ、ダイバー) was released on August 27.
This is the 2nd major single from Lovely Doll (愛乙女★Doll).
Check out the MV.
It is a summer tune. The lyrics were written by Tanaka Hidenori. The music was composed by Tanaka Hayato (agehasprings).
The music video and the photo shooting were made in Okinawa. For the first time, the members of the idol group performed as actresses in this PV. The girls played as if they had a love story with a partner.
The Type A edition contains 4 songs and their instrumental versions. It comes with a bonus DVD featuring the music video and making-of footage.
The Type B, C and D editions include only one coupling song.
Tracklist
Type A

CD

Setsunatsu, Diver (セツナツ、ダイバー)
Whatcha Gonna! (ワチャゴナ!)
Sayonara to Kimi ga Itta (さよならと君が言った)
Shoujo Asteria (少女アステリア)
Setsunatsu, Diver (Off vocal)
Whatcha Gonna! (Off vocal)
Sayonara to Kimi ga Itta (Off vocal)
Shoujo Asteria (Off vocal)

DVD

Setsunatsu, Diver (Music Video)
Making-of
Type B

CD

Setsunatsu, Diver
Whatcha Gonna!
Setsunatsu, Diver (Off vocal)
Whatcha Gonna! (Off vocal)
Type C

CD

Setsunatsu, Diver
Sayonara to Kimi ga Itta
Setsunatsu, Diver (Off vocal)
Sayonara to Kimi ga Itta (Off vocal)
Type D

CD

Setsunatsu, Diver
Shoujo Asteria
Setsunatsu, Diver (Off vocal)
Shoujo Asteria (Off vocal)
Music Video (PV)