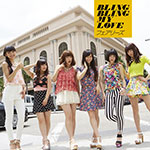 Fairies' new single Bling Bling my Love was released on September 3.
This is the 9th single from Fairies.
The MV has been unveiled.
The music video was filmed in Los Angeles, USA. It was the first time that Fairies shot a PV overseas.
The dance choreography was made by Daniel Lee who has previously worked with artists such as BoA.
The bonus edition includes a DVD with the music video and making-of footage.
Tracklist
Bonus Edition

CD

Bling Bling my Love
Don't You Wanna Dance

DVD

Bling Bling my Love (Music Video)
Making-of
Standard Edition

CD

Bling Bling my Love
Don't You Wanna Dance
Bling Bling my Love (Instrumental)
Don't You Wanna Dance (Instrumental)
Music Video (PV)