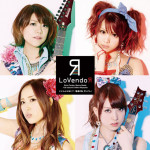 LoVendoЯ's new single Iinjanai? / Futsuu no Watashi Ganbare! (いいんじゃない?/普通の私 ガンバレ!) will be released on July 1st.
This is LoVendoR's major debut single. It is a double A-side.
Check out the music video with English and Japanese subtitles.
Nakajima Takui wrote the lyrics and composed the music of Iinjanai?.
Tsunku♂ created the lyrics of Futsuu no Watashi Ganbare!.
The limited edition includes a bonus DVD featuring the MV and footage from their live at Shinjuku Blaze which took place on March 5, 2015.
Furthermore, Tanaka Reina's rock band will hold LoVendoЯ Live Tour 2015 MajoЯ from July to September 2015.
Tracklist
Limited Edition

CD

Iinjanai? (いいんじゃない?)
Futsuu no Watashi Ganbare! (普通の私 ガンバレ!)
Iinjanai? (Instrumental)
Futsuu no Watashi Ganbare! (Instrumental)

DVD

Iinjanai? (Music Video)
Futsuu no Watashi Ganbare! (Music Video)
Sennou (洗脳) (Live@新宿BLAZE 2015.3.5)
Soushisou Ai (相思相愛) (Live@新宿BLAZE 2015.3.5)
Honto no Kimochi (ホントノキモチ) (Live@新宿BLAZE 2015.3.5)
Type A

CD

Iinjanai?
Futsuu no Watashi Ganbare!
Desert of a moonlit night ~月夜の砂漠~
Iinjanai? (Instrumental)
Futsuu no Watashi Ganbare! (Instrumental)
Type B

CD

Iinjanai?
Futsuu no Watashi Ganbare!
Princess of lone castle ~孤城の姫君~
Iinjanai? (Instrumental)
Futsuu no Watashi Ganbare! (Instrumental)
Music Video (PV)