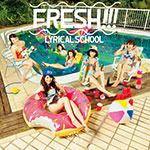 Lyrical School's new single Fresh!!! will be released on July 15.
This single is produced by tofubeats. Hip hop idol group Lyrical School already worked in collaboration with him in the past during their tengal6 era.
The music video has been unveiled.
tofubeats wrote the lyrics and composed the music of Fresh!!!.
The lyrics of the coupling song Que Sera Sera (ケセラセラ) were written by Iwabuchi Tatsuya. The music was composed by Tsuboko Shigeki and arranged by Takahashi Kosuke.
2 editions is available.
The limited edition includes 2 remix of their previous singles wow♪ and Waratte.net (わらって.net) by okada and Ali-Kick as bonus tracks.
Furthermore, the hip hop idol group will participate in various festivals in Japan this summer.
Lyrical School one-man Live will be held on November 2 at Liquidroom in Tokyo.
Tracklist
Regular Edition

Fresh!!!
Que Sera Sera (ケセラセラ)
Fresh!! (Instrumental)
Que Sera Sera (ケセラセラ) (Instrumental)
 Limited Edition

Fresh!!!
Que Sera Sera (ケセラセラ)
wow♪ – okadada remix
Waratte.net (わらって.net) – Ali-Kick remix
Fresh!! (Instrumental)
Que Sera Sera (ケセラセラ) (Instrumental)
Music Video (PV)