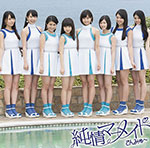 Sunmyu's new single Junjou Mermaid (純情マーメイド) will be released on July 2.
This is the 6th single from Sunmyu. It is a classical j-pop song.
The MV has been released.
4 versions are available. The B-side track is different for each one of them.
The limited editions include a DVD with the music video or bonus footage.
This single comes with a ticket for a handshake event and a photo of a member or the idol group randomly selected.
Furthermore, Sunmyu's 1st album Mirai Chizu (未来地図) will be on sale on August 6.
Tracklist
Type A

CD

Junjou Mermaid (純情マーメイド)
Glass no Kisetsu (ガラスの季節)
Junjou Mermaid (純情マーメイド) (Instrumental)
Glass no Kisetsu (ガラスの季節) (Instrumental)

DVD

Junjou Mermaid (純情マーメイド) (Music Video)
Junjou Mermaid (純情マーメイド) (Dance Version)
Junjou Mermaid (純情マーメイド) (Close Up Version)
Junjou Mermaid (純情マーメイド) (Making-of)
Type B

CD

Junjou Mermaid (純情マーメイド)
Kimorebi to Orange (木漏れ日とオレンジ)
Junjou Mermaid (純情マーメイド) (Instrumental)
Kimorebi to Orange (木漏れ日とオレンジ) (Instrumental)

DVD

Senyan & Mamirin no Burai Date (せにゃん&まみりんのぶらりデート♡~ちびーずのくいだおれ中華街編~)
Yaachan & Harurun no Burai Date (やぁちゃん&はるるんのぶらりデート♡~浴衣で小江戸川越編~)
Type C

CD

Junjou Mermaid (純情マーメイド)
Kiss wo Kudasai (キスをください)
Junjou Mermaid (純情マーメイド) (Instrumental)
Kiss wo Kudasai (キスをください) (Instrumental)

DVD

Ayana & Reichamu no Burai Date (あやな&れいちゃむのぶらりデート♡~奥多摩で坊主編~)
Tomokyon & Missu no Burai Date (ともきょん&みっすーのぶらりデート♡~江の島2人旅雨女克服編~)
Regular Edition

CD

Junjou Mermaid (純情マーメイド)
Glass no Kisetsu (ガラスの季節)
Junjou Mermaid (純情マーメイド) (Instrumental)
Glass no Kisetsu (ガラスの季節) (Instrumental)
Music Video (PV)