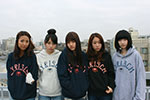 Lyrical School unveiled the name of the new member joining the group. Komatsu Hina, 16 years old, passed the audition which started in November. She replaces Mariko who graduated on January 26.
Hina will be introduced during the mini live which will be held on March 17 at Tower Records Akihabara, Tokyo.
Lyrical School will also perform at All Japan Pro Wrestling Tohoku Earthquake and Tsunami Charity Event Tournament Vol.2 (全日本プロレス東日本大震災復興支援チャリティーイベント狭山大会Vol.2) on March 23.
Lyrical School will release a new single in May.
Schedule
Date : 17/03/2013
Time : 15:00
Venue : Tower Records Akihabara, Tokyo
Date : 23/03/2013
Time : –
Venue : Sayama Shimin Sougou Taiikukan Main Arena, Sayama