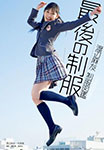 AKB48's Watanabe Mayu's 2nd photobook Seifuku Zukan Saigo no Seifuku (制服図鑑 最後の制服) will be released on April 19.
The shooting was made across Japan, from Hokkaido to Okinawa.
The theme of the photobook is the school life. It includes photos of Watanabe Mayu wearing school uniform, swimsuit, and gym uniform.
The book has 256 pages.