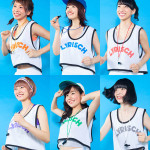 lyrical school's new single Run and Run will be on sale on April 27th.
This single marks the major debut of the hip hop idol group lyrical school under King Records label.
Ali-Kick (Romancrew) wrote the lyrics, composed and arranged the music of all the songs.
The limited edition includes 2016 versions of the songs brand new day and S.T.A.G.E. recorded with new member Hime (ex Rhymeberry) who joined lyrical school at the end of last year.
The members of the idol group are wearing sportswear on the cover artwork.
Tracklist
CD

RUN and RUN
Lyrical School no Uta (リリスクのうた)
brand new day 2016
S.T.A.G.E. 2016
RUN and RUN (Instrumental)
リリスクのうた (Instrumental)