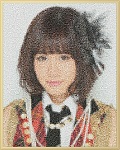 To celebrate Maeda Atsuko's graduation from AKB48, a photo mosaic has been created with 10,000 pictures sent by fans.
The photo mosaic is available on an official website between August 28 and September 30. By clicking on it, each picture and message from fans can be seen in detail.
The poster is also displayed at AKB48 Theater between August 27 and September 3.