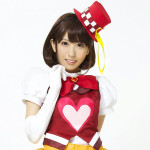 Mainya with Shuffle Sisters' new single Parade Illusion (パレード・イリュージョン) was released on October 29.
Mainya with Shuffle Sisters is an idol unit consisting of Kotone Mai and of 3 members of Dianna Sweet.
It is the ending theme song for the anime Mysterious Joker (怪盗ジョーカー ; Kaitou Joker).
The music video was unveiled on December 25.
Kotone Mai, whose nickname is Mainya, is from Hyogo Prefecture. She started her music activities in 2009. She made her major debut in May 2013 under the label Version Music. Her single Bang Bang Koteki Samba (Bang Bang 鼓笛サンバ) ranked 8th on the Oricon daily chart.
Mysterious Joker is a popular manga by Takahashi Hideyuki. It has been published on Monthly Colocolo Comic (月刊コロコロコミック) and more than 1,300,000 copies total. The anime series started airing on Tokyo MX and Kids station in October 2014.
You can watch Mysterious Joker on Gyao for free until January 4.
The CD cover is featuring an anime-style illustration of Kotone Mai.
Tracklist
Parade Illusion (パレード・イリュージョン)
Chinpun Kanpun Papipupepon (ちんぷんかんぷんぱぴぷぺぽん)
Parade Illusion (Instrumental)
Chinpun Kanpun Papipupepon (Instrumental)
Music Video (MV)