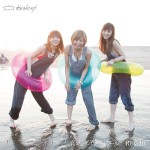 Idol group Manaminorisa released its new single April fool at midsummer / Results (真夏のエイプリルフール / Results) on July 5.
It's the 11th single of Manaminorisa. It is also its 3rd major single.
The single covers were unveiled.
Check out the music video.
The single was written and composed by tetsuhiko.
The single is released in several editions : A, B, C, D and E. The track listing is the same for each one of them.
Tracklist
April fool at midsummer (真夏のエイプリルフール)
Results
April fool at midsummer (One Minus Version)
Results (One Minus Versions)
Music Video (PV)