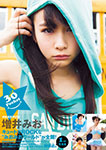 Masui Mio (Passpo☆) will release her 1st photobook on April 1. It will be entitled 30 (mio) Pocket.
The photo shoot was done in Guam. Mio Mio lets her personality shine through various stories. The book also contains photos in swimsuit.
Check out the special video message from Masui Mio.
Moreover, Passpo☆ captain Negishi Ai's 1st photobook Nobody Knows will also go on sale on April 1.
Masui Mio 1st Photobook "30 (mio) Pocket" (Special Video Message)