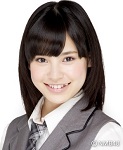 Matsuda Shiori announced her graduation from NMB48. She will leave the group on October 28.
She told that she had taken this decision in order to focus on her studies and to return to being a normal girl.
Matsuda Shiori is part of NMB48 Team N. She joined the group as 1st Generation member in October 2010.
Matsuda Shiori's graduation announcement : http://ameblo.jp/nmb48/entry-11382986400.html