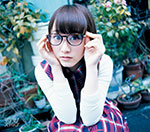 Matsui Rena (SKE48) appeared as a gravure model with glasses for Digimonostation (デジモノステーション) magazine.
The photos of Matsui Rena will be published in the May issue of the magazine.
Check out some pictures.
It is part of a segment entitled "Nice girl glasses" (ビジョメガネ, Bijou Megane). Digimonostation makes this kind collaboration with female celebrities for 14 years.
The member of SKE48 has already appeared with glasses during handshaking events or on her blog. It became popular a popular topic among her fans who commented "cute", "looks good".
Furthermore, Matsui Rena's 2nd photobook Hemeretto (へメレット) will go on sale on April 1.