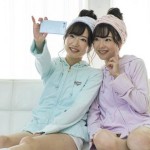 The sisters and idols Mika+Rika participated in a commercial for the new smartphone Xperia X Compact by Sony.
The commercial was unveiled on November 12th.
In the video, the twin sisters Mika and Rika are shown in a studio, using the Xperia X Compact. The mobile device has several features and can take great photos. This product is available for sale from the stores of the mobile operator NTT DoCoMo in Japan.
The slogan is : Dakara watashi wa, Xperia. (だから私は, Xperia.)
Several promotional photos with the idol group were published. You can see some of them below (the last photo is only their main profile phtoto).
The idol group recently started a new project as "free material idol" (フリー素材アイドル). The girls provide photos as free materials online through a website opened very recently (mika-rika-free.jp).
For information, the hip-hop duo is now called Mika+Rika ; It changed its name typography and was previously written as MIKA☆RIKA (ミカ☆リカ). Their official website has changed address this year and is renamed mikarika.jp. They released their free CD single Tada no Onna (ただ の 女) on July 1st.
The sisters will hold their second one man live on November 28 at the Shibuya eggman in Tokyo.
Commercial video