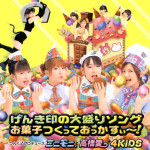 Genki Jirushi no Oomori Song / Okashi Tsukutte Okkasui~! (げんき印の大盛りソング/お菓子つくっておっかすぃ~) is the 6th single released by Minimoni on November 27th, 2002.
Minimoni is an idol group from Hello! Project. They are credited as Minimoni to Takahashi Ai + 4KIDS on this single. Takahasi Ai is a Japanese singer, idol, actress and model. 4KIDS is a former sub-group under Hello! Project consisting of Sudo Maasa, Sugaya Risako, Suzuki Airi and Hagiwara Mai.
The second track is sung by the first generation members Yaguchi Mari, Tsuji Nozomi, Kago Ai and Mika. Both songs are featured on Minimoni The Movie: Okashi no Daikbouken!. It is a 2002 film directed by Shinji Higochi and starring Minimoni members.
53,681 copies of the single were sold overall. The length is 16:15.
Track list
Genki Jirushi no Oomori Song (げんき印の大盛りソング)
Okashi Tsukutte Okkasui~! (お菓子つくっておっかすぃ~)
Genki Jirushi no Oomori Song (Original Karaoke)
Okashi Tsukutte Okkasui~! (Original Karaoke)
Music Video (PV)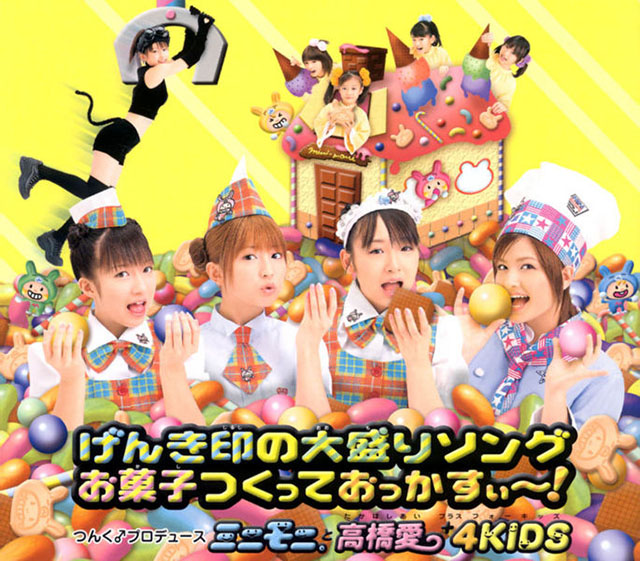 Featured Members
Minimoni

Yaguchi Mari
Tsuji Nozomi
Kago Ai
Mika

Takahashi Ai
4KIDS

Sudo Maasa
Sugaya Risako
Suzuki Airi
Hagiwara Mai