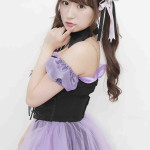 Igusa Riona announced her graduation from Palet.
This announcement was made by herself on November 24 during Palet's regular live concert palet Thursday Night at AKIBA Cultures Theater.
She chose to leave the band to pursue her career in fields other than music. She would like to start a career in fashion and modeling.
Her last concert with Palet will take place during the concert palet LIVE 2016 ~ NEXT DIMENSION ~ at Shinjuku BLAZE, on December 24.
Igusa Riona is a founding member of Palet since its debut in 2012. She is 18 years old. Her color is purple.