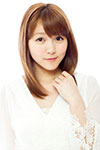 Former Morning Musume member Mitsui Aika will be starring in the stage play Okujou Wonderland (屋上ワンダーランド).
Okujou Wonderland will run 8 times between May 8 and 12 at Owl Spot theater, Tokyo.
Mitsui Aika will make her first appearance in a stage play since her graduation from Morning Musume in May 2012.
Schedule
08/05/2013 : 19:00
09/05/2013 : 19:00
10/05/2013 : 14:00 / 19:00
11/05/2013 : 13:00 / 17:00
12/05/2013 : 13:00 / 17:00