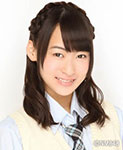 Miura Arisa has been promoted to NMB48 Team M.
The announcement was made on March 20 during the concert of the idol group in Osaka.
Miura Arisa is going to replace Team M captain Shimada Rena who held her graduation ceremony during this live performance.
However, Shimada Rena will continue her activities with NMB48 until April 7.
Miura Arisa joined NMB48 as a 3rd generation Kenkyuusei in 2012.