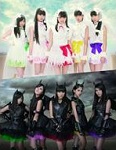 Momoiro Clover Z will hold Momoclo Club xoxo ~Valentine De Night Da~ Z! (ももクロくらぶxoxo〜バレンタイン De Night だぁ〜Z!).
The Valentine's Day event will take place on February 11 at Tokyo International Forum.
This live event is organized in collaboration with the radio program Momoiro Clover Z Momoclo Club xoxo (ももいろ クローバーZ ももクロくらぶxoxo) airing on Nippon Broadcasting System.
Schedule
Date : 11/02/2013
Time : 17:00
Venue : Tokyo International Forum Hall A