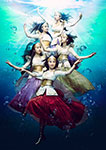 Momoiro Clover Z's new single Naitemo Iindayo (泣いてもいいんだよ) will be released on May 8.
The lead song Naitemo Iindayo (泣いてもいいんだよ) is the soundtrack of Akumu-chan The Movie (悪夢ちゃん The 夢ovie).
The MV has been released.
It was written and composed by Nakajima Miyuki, and arranged by Seo Ichizo.
The coupling song Doudou Heiwa Sengen (堂々平和宣言) is the soundtrack of the movie Idai Naru Shurara Bon (偉大なる、しゅららぼん) in which Shiritsu Ebisu Chuugaku's Kashiwagi Hinata is playing.
The lyrics were written by Chinza Dopeness. The music was composed and arranged by Michel☆Punch, Keizo Machine! from Hifana and Evisbeat.
Momoclo's new song My Dear Fellow was unveiled for the first time at Yankee Stadium, New York, on April 9 when Tanaka Masahiro pitched as a starter for the local team.
In addition, Momoiro Clover Z opened a hotline for "people who are tired of fighting everyday, a battle with no escape route". The phone number (0180-991-669) is written on the cover of the single.
The regular edition includes a bonus track.
The limited edition comes with a DVD featuring the music video.
Furthermore, Momoclo will hold 2 concerts at Nissan Stadium, Yokohama, on July 26-27.
Momoiro Clover Z Japan Tour 2013 Gounn was released on DVD and Blu-ray on March 26.
Momoiro Christmas 2013 ~Utsukushiki Gokkan no Sekai~ (ももいろクリスマス2013 ~美しき極寒の世界~) will be on sale on June 25.
Tracklist
Regular Edition

CD

Naitemo Iindayo (泣いてもいいんだよ)
Doudou Heiwa Sengen (堂々平和宣言)
My Dear Fellow
Naitemo Iindayo (泣いてもいいんだよ) (Instrumental)
Doudou Heiwa Sengen (堂々平和宣言) (Instrumental)
My Dear Fellow (Instrumental)
Limited Edition

CD

Naitemo Iindayo (泣いてもいいんだよ)
Doudou Heiwa Sengen (堂々平和宣言)
Naitemo Iindayo (泣いてもいいんだよ) (Instrumental)
Doudou Heiwa Sengen (堂々平和宣言) (Instrumental)

DVD

Naitemo Iindayo (泣いてもいいんだよ)
Music Video (PV)