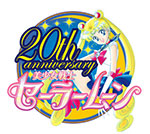 Momoiro Clover Z, Nakagawa Shoko, Horie Mitsuko, and other artists will participate in Sailor Moon Tribute Album (「セーラームーン」トリビュート・アルバム) which will be released on January 29.
As its title suggests, this album celebrates the 20th anniversary of the anime Sailor Moon (美少女戦士セーラームーン) based on the manga written by Naoko Takeuchi.
More details will be announced later.