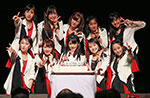 Morning Musume 12th generation members will be unveiled on September 30 at Nippon Budokan during their concert.
Moreover, Morning Musume '14 will release a new album on October 29. The title is 14章~The message~.
These announcements were made on September 14 during a live performance held to celebrate the 17th anniversary of the idol group from Hello! Project. This event took place at Shinagawa Stellar Ball, Tokyo.
Furthermore, Morning Musume's 57th single Tiki Bun / Shabadabadoo / Mikaeri Bijin (Tiki Bun / シャバダバ ドゥ~ / 見返り美人) will be on sale on October 15.