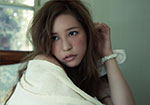 Kasai Tomomi's new single Ima Sarasara (今さらさら) will be released on September 17.
This is the 4th solo single from former
AKB48 member Kasai Tomomi.
As usual, Tomo looks sexy in the MV.
The title song is a j-pop melody. It talks about friendship and love.
The Type A and B editions come with a DVD featuring the music video and bonus footage (making-of or live performance).
The Type C edition includes all B-side tracks and a ticket for a handshake event with Kasai Tomomi.
The release date of this long-awaited single was initially scheduled on July 23, but it had been postponed.
Tracklist
Type A

CD

Ima Sarasara (今さらさら)
memory
Soredemo… (それでも…)
Ima Sarasara (Off vocal)
memory (Off vocal)
Soredemo… (Off vocal)

DVD

Ima Sarasara (Music Video)
Making-of
Type B

CD

Ima Sarasara (今さらさら)
memory
M・U・I・S・H・I・K・I
Ima Sarasara (Off vocal)
memory (Off vocal)
M・U・I・S・H・I・K・I
(Off vocal)

DVD

Ima Sarasara (Music Video)
Summer Days -2014/8/22 @Otodama Sea Studio-
Type C

CD

Ima Sarasara (今さらさら)
memory
Soredemo… (それでも…)
M・U・I・S・H・I・K・I
Ima Sarasara (Off vocal)
memory (Off vocal)
Soredemo… (Off vocal)
M・U・I・S・H・I・K・I (Off vocal)
Music Video (PV)