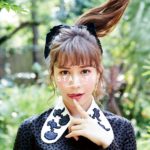 Kasai Tomomi, the former AKB48 member, unveils her first album!
It's entitled STAR-T! and will be released on November 15, a day before her 26th birthday.
This is the first disc of Kasai Tomomi to be released for three years.
This album includes the first singles of Kasai Tomomi : Masaka, Mine, Kietaikurai and Ima Sarasara.