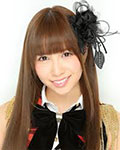 Kasai Tomomi announced her graduation from AKB48. The date of her graduation ceremony hasn't been determined yet.
She made the announcement during the 2nd AKB48 Kouhaku Taikou Uta Gassen held on December 17. Kasai Tomomi explained that she decided to leave the group to pursue her solo career.
Kasai Tomomi's 1st solo single Masaka (まさか) will be released on December 26.
She joined AKB48 in April 2006 as a 2nd generation member. She is currently part of AKB48 Team A.