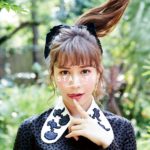 Kasai Tomomi, the former AKB48 member, unveils her first album!
It's entitled STAR-T! and will be released on November 15, a day before her 26th birthday.
This is the first disc of Kasai Tomomi to be released for three years.
This album includes the first singles of Kasai Tomomi : Masaka, Mine, Kietaikurai and Ima Sarasara.
Check out the MV for Star-T! below.
The CDs will each contain a different song on the 10th track.
The DVD will include all the clips of the first singles and the new clip of the song Star-T! and its making-of.
Tracklist
CD

Masaka
Candy (キャンディー)
Watashi no Hikari (私のヒカリ)
Mine
Kietai Kurai (キエタイクライ)
Touch Me!
Ima Sarasara (今さらさら)
Joshuseki RAIN (助手席RAIN)
Saigo no Namida (最後のナミダ)
No Return (Type A) / Disoder (Type B)
STAR-T!
Gyutto! (ぎゅっと!)
DVD

Masaka (Music Video)
Mine (Music Video)
Kietaikurai (Music Video)
Ima Sarasara (Music Video)
STAR-T! (Music Video)
STAR-T! (Making of MV)
Music Video (PV)